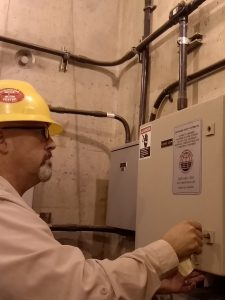 Earthquake Safety Systems, Inc., a California based corporation, was conceived as part of a new and important industry branch to provide engineered earthquake protection solutions for public safety and the mitigation of property damage from strong motion events.
Extensive research into seismological engineering combined with advancements in modern technology and a total dedication to quality & reliability, have resulted in the development of a complete range of unique seismic annunciation and control devices for the preservation of life and property.
With 30+ years of experience, Earthquake Safety System's name has come to represent industrial-grade, high reliability and freedom from the annoying false trips that often plague low-tech or residential qualified products. System components are of the highest quality and carry one or more of the following approvals: UL, FM, CSA, CGA.
Seismic gas shutoff systems are approved by the Office of State Architect of California, and meet or exceed the requirements of ANSI Z 21.70 and ANSI/ASCE 25 Seismic Standards.