Municipalities and water districts in seismically active regions are wise to consider earthquake actuated shutoff equipment to prevent potable water loss, preserve water inventory for fire suppression, prevent the release of toxic chemicals used for water treatment and to mitigate the potential for flooding or property damage from broken water lines.
Earthquake Safety Systems, a California Corporation established in 1988, has vast experience in earthquake actuated shutoff systems. Our MSC Master Seismic Controller, is favored by cities and water districts for its use of a high-end digital seismic sensor with field adjustable setpoints and ease of periodic field testing and maintenance. The MSC-series product line is recognized by the FM Global Insurance company, each panel is individually registered by UL, and perhaps most importantly, end-users are able to control virtually any commercial electric motor or solenoid operated actuator from our product. ESS' system stays current with technology by integrating the best commercial products in the areas of seismic sensing, solenoid/motor operated valves and 24Vdc UPS backup.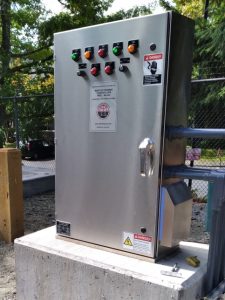 For more information, please feel free to contact us or one of our distributors.