Apollo Series 2100 Seismic Switch
Shut-It-Down Safely & Securely With the Apollo Emergency Seismic Switch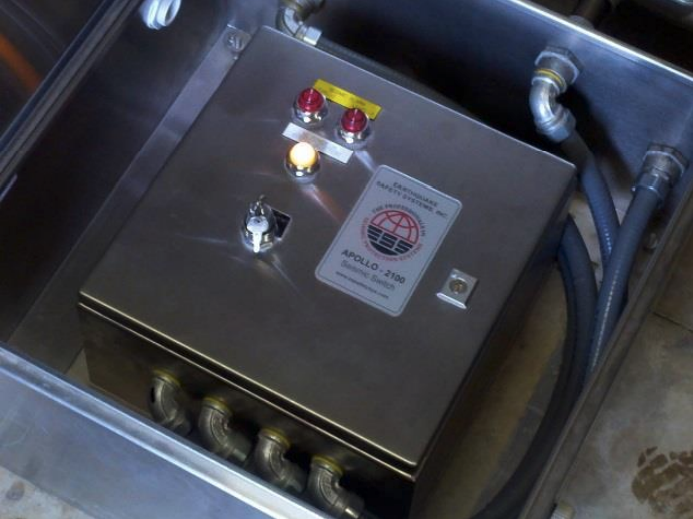 Ideal for all critical Industrial Applications where accidental shutdowns cannon be tolerated, e.g.:
Valves, Solenoids and Actuators
Process Control Systems
Pipelines
Pumping Station
Hazardous Material
Chemicals
Electronic Security Doors
Motors
Elevators, etc.
DESCRIPTION:
A fully integrated industrial seismic switch with tri-axial digital seismic sensor ("P" & "S" waves) and minimum 8-hour reserve battery power. The monitor is shipped complete with pre-drilled base plate for easy installation. A NEMA-4 enclosure is shown below; stainless steel above. An optional stainless steel secondary enclosure provides NEMA-4X rated protection.
Seismic alarm and control setpoints (trigger values) are user selectable to local requirements. Outputs peak ground acceleration (PGA) values for all three axes in real-time for retrieval via RS-232C serial connection.
Internal terminal block provides simple field wiring terminations for AC power (110 Vac / 60 Hz standard), Level 1 Alarm, Level 2 Alarm, Loss of AC Alarm, Seismic Trip Alarm (all alarm output contacts are FORM C, rated at 230 Vac, 6A).
Options include: 230Vac / 50 Hz power supply, Bypass Switch(es), 24 Vdc operation, Extra Form C Seismic Trip output relay contacts, NEMA 4X secondary enclosure.
FEATURES:
Powerful design features include multi-setpoint sensor control. Peak ground acceleration values output in real-time via simple RS-232C serial connection. Sensor self-diagnostics. Power-on self-test. Onboard 8-hour battery back-up. Maintenance free solid-state tri-axial sensor provides unparalleled accuracy and reliability. Industrial quality NO / NC relay output (user selectable), 230Vac / 10A rated contacts.
Easy field termination. Front panel (external) status lights and rugged Test/Reset switch. Fully assembled for fast installation. Electrician friendly with ample room for rigid or flex conduit termination.
| | |
| --- | --- |
| Seismic Standards: | Compliance with ASCE25, ANSI Z21-70, ASME A17 and other seismic standards is achieved with this intelligent and flexible, state-of-the-art technology. |
| Sensors: | Solid state, triaxial accelerometer in three orthogonal axes (X,Y & Z ). Detects vertical "P" and horizontal "S" wave accelerations. Outputs Peak Ground Acceleration (PGA) values upon exceeding setpoint. |
| Frequency Response: | 1 Hz to 15 Hz. Digital filter protects from industrial vibrations. |
| Set-points: | User selectable; 0.025 g to 0.5 g on each axis (XYZ) in 0.001 g increments. |
| Communications: | RS-232C serial connection |
| Diagnostics: | Self-diagnostics at power on and reset. Front panel visual indicators: "AC power on", "Level 1 Alarm", "Level 2 Alarm". |
| Control Outputs: | Two (2) independent Form C (NO & NC) dry, isolated alarm relay contacts change state on acceleration exceeding the user's programmed set-points; latched alarm or momentary up to 2 minutes. Contacts rated up to 250V/6A. Default configuration is latched until operator reset. |
| Power Supply: | 120 VAC, 50/60 Hz or 220 VAC, 50 Hz (specify at order). 8-hour autonomy, maintenance-free battery. Optionally powered by 24 Vdc.Physical: |
| Physical: | Horizontal, NEMA 4 paint, 15" W X 15" D X 10" H (standard). Horizontal, NEMA 4 stainless, 16" W X 16" D X 10" H (optional) Vertical NEMA 4 stainless, 16" W X 16" D X 10" H (optional) Horizontal, NEMA 4X via secondary stainless enclosure, 24"W X 24"D X 12"H (See photo right). Fully gasketed door. Status indicators: Fault, A/C power loss, Seismic trip, AC Power "On" Operating temperature, -25º C to +70º C. Humidity, 0% – 100% (non-condensing) with secondary NEMA4X enclosure. Weight, 35 lbs. including battery (approx). |
| Installation: | Via four (4) ¼" bolts attached to pre-drilled aluminum baseplate (provided with Apollo), mounted horizontally. Baseplate weight is 12 lbs. Panel may be wallhung (requires external floor-mount sensor) in some circumstances (consult factory for details). Precise leveling not required. Baseplate mounted to concrete pad/floor via two anchor bolts. |
| Options: | Various custom logic schemes / redundancies using flow, pressure, leak detection & level monitoring sensors as a positive feedback. |