ANSI / ASCE / SEI 25-16
There is no 'standard' for earthquake actuated shutoff systems for industrial or commercial facilities. Our experience is that just about every site is different; using various chemicals in the liquid or gas phase, at varying pressures, in varying volumes, in a varying quantity of pipes made of varying materials. That's a lot of 'varying'!
In the absence of code-mandated actuation criteria or a risk-informed performance-based analysis specifying acceleration setpoints for your earthquake actuated shutoff system, consider actuating your NG or propane shutoff system based on the ANSI / ASCE / SEI 25-16 National Standard. Although ASCE 25 is a residential standard for 'off-the-shelf' earthquake actuated NG shutoff valves, it contains reasonable actuation response curves which you can select (using ESS instrumentation) based on the fragility of the system (or site risk) to be protected.
The chart below shows the ASCE 25 response curves along with annotation by ESS providing a rough correlation to earthquake magnitude presuming that the owner's site is proximal to the earthquake's focus or epicenter. That is, the chart would not apply to a M6 earthquake 200 km away but would apply where the focus or epicenter is only a few km away.
Unlike mechanical off-the-shelf ASCE 25 'seismic valves' which can actuate anywhere between the upper and lower curves and still be compliant with the standard, ESS sensing technology is programmable. We can program the sensor to follow the 'upper' curve, 'lower' curve, or anywhere in between. In fact, we can program the sensor to have a response below the 'lower' curve or above the 'upper' curve. And, if the owner's actuation criteria change in the future, the ESS sensor can be reprogrammed (5 minutes), tested & certified (1 hour) in the field to the owner's new acceleration setpoint. You can't do that with a mechanical seismic valve which has a fixed response.
If your application is other than a combustible gas, we can configure our instrumentation for a nominally flat response between 1 Hz and 15 Hz (3 dB points) and trip your system at the peak acceleration value that you specify. For example, in Silicon Valley semi-conductor plants must trip their earthquake actuated automatic toxic gas shutoff systems on acceleration exceeding 0.3 G per the Santa Clara County Toxic Gas Ordinance. Every toxic gas ordinance that we have read is 'mute' on the subject of frequency response. Therefore, it must be presumed that the actuation is at 0.3 G anywhere within the frequency band of interest (typically 1 Hz to 15 Hz). Because ASCE 25 devices have a non-linear response that 'rolls off' at frequencies above 2 Hz to 3 Hz, ASCE 25 devices MUST NOT be used for toxic gas applications, applications with OBE/SSE criteria, or other applications requiring a nominally flat response between 1 Hz and 15 Hz.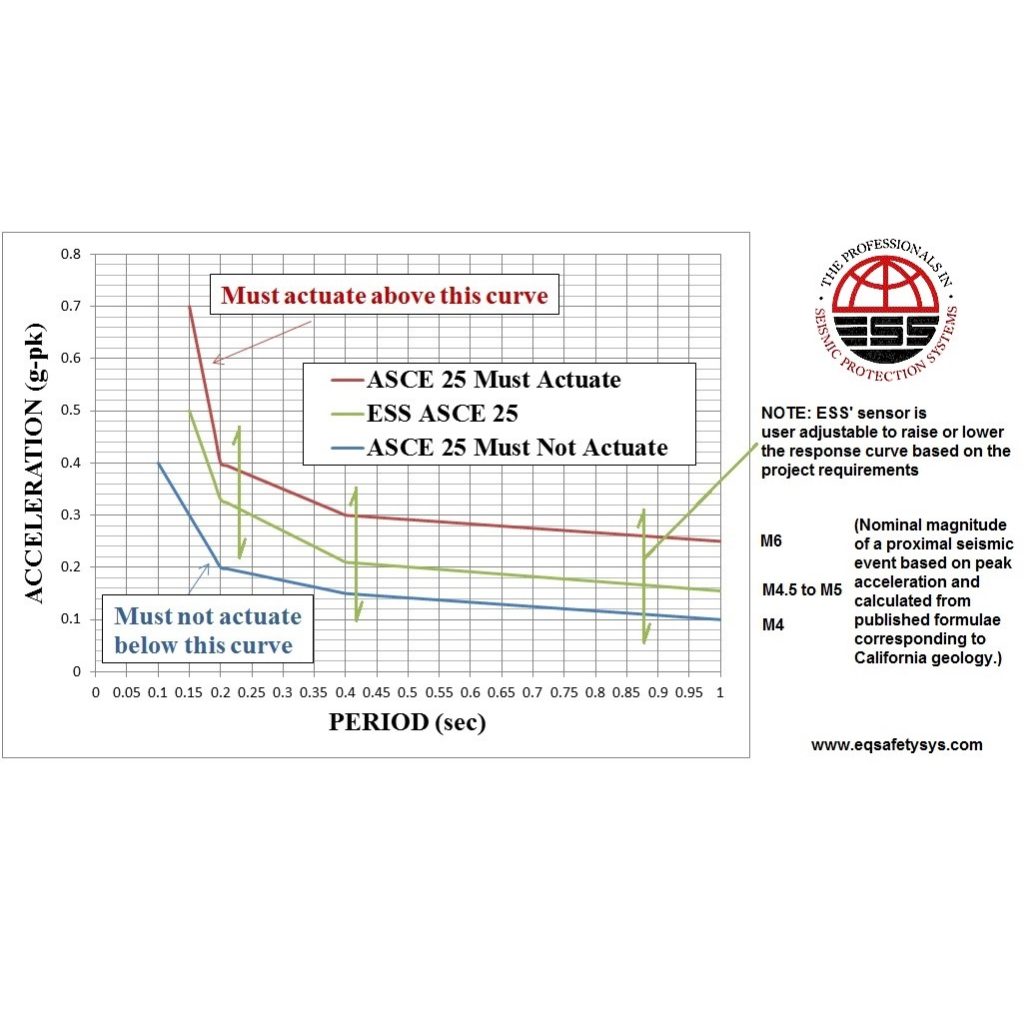 AN ASCE 25 DEVICE CONFIGURED TO TRIP AT 0.25 G-PK AT 1 HZ REQUIRES 0.7 G-PK TO TRIP AT 6.5 HZ!!!!!
THE DEVICE MAY NOT EVEN BE ABLE TO TRIP AT 15 HZ DUE TO THE ROLL-OFF!!!!